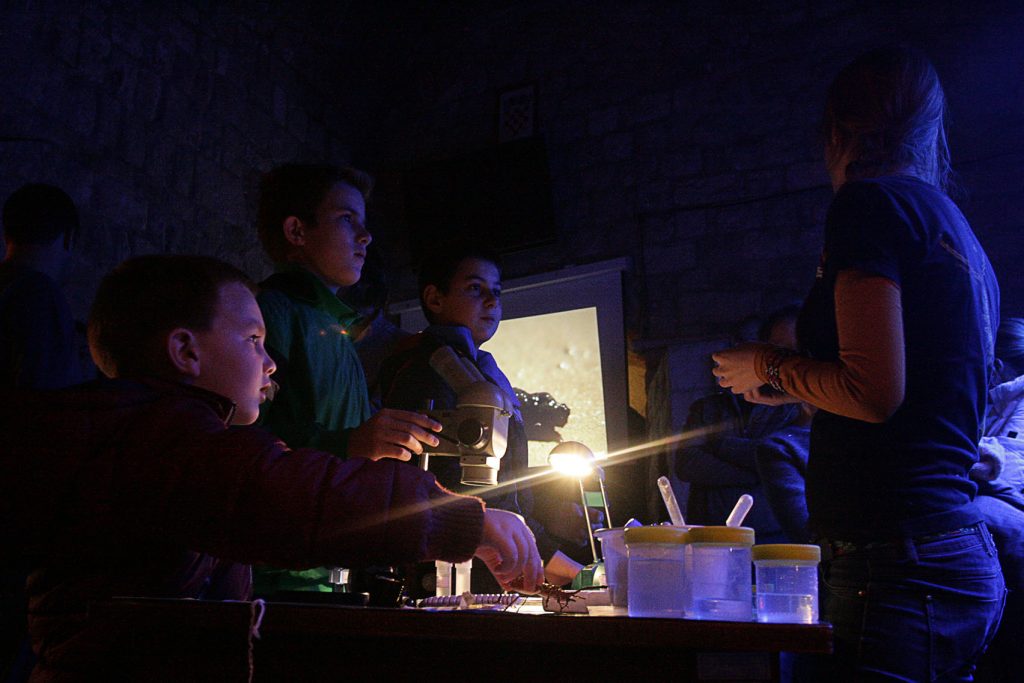 Workshops and lectures
Night of Biology
Night of Biology is science – popularization event which has been held at the Department of Biology, Faculty of Science in Zagreb since 2009. The goal of this event is to bring biology, as the science of life, closer to visitors in a simple, accessible and imaginative way and to present life in all its parts and forms.
Croatian Biospeleological Society collaborates with interested biology students and, on the occasion of the Night of Biology, brings subterranean life closer to visitors year after year. In our workshops, you can learn about cave formation and development, cave exploring, what organisms live here, what do they look like and what are their adjustments for surviving in this harsh environment. Put the caving helmet on your head and take a look into the world of complete darkness because, as the name of one workshop said, "Who is still afraid of the dark?"
Science Quarter of the INTERLIBER
Interliber – the International Book and Teaching Appliances Fair – as the biggest literary event in Croatia has been enriched with additional content called "Science Quarter" since 2015. The aim of the Science Quarter is the popularization of science in an interactive and fun way, and as such proved to be a great opportunity to popularize Biospeleology in Croatia.
Visiting Science Quarter in November every year, you can join us and participate in presentation workshops suitable for everyone (from 5 to 105), and take a peek into the hidden world of underground habitats. They might look lifeless at first, but a closer look at the cave darkness reveals a great number of invertebrates which amaze us with their unusual adaptations. However, since this is a book fair after all, you can browse through some of our publications and inform yourselves about how you can contribute to the preservation and protection of these unique habitats.
Scientific Picnic
Scientific Picnic is an international outdoor or indoor event whose aim is the promotion of science. This manifestation has been held since 2012, and CBSS joined it in 2013 when, in the park behind "Boćarski dom", it held a workshop entitled "Cave fauna under the magnifier". Next year, the Picnic moved to the Zagreb Fair, where it  alsostayed in 2015. In those two years, workshops "Hidden world of subterranean habitats" and "Life without light" were held.
Through interactive workshops, CBSS members bring visitors closer to the underground world. Within the workshops, you can discover what biospeleologist do and get to know the most common cave dwellers on the territory of Croatia. A look through a magnifier reveals numerous adaptations animals have acquired by living in total darkness, with scarce source of food, and in a cold and inhospitable environment.
The Bat Night
International Bat Night is an event that has been held since 1997 under the auspices of the Agreement on the Conservation of Populations of European Bats (EUROBATS), and is organized in more than 30 cosignatory countries. The aim of this manifestation is to remove prejudice and fear of bats and to educate the public about the useful role and importance of protecting these endangered mammals. Traditionaly, it is held every year on the last full weekend in August; however, local organisers sometimes choose other dates if more convenient.
In Croatia, the Bat Night is held across the country, and CBSS members are regular participants and even organisers in some of the cities. Croatian Biospeleological Society participated in the Bat Night in Zagreb (at Medvedgrad in the Nature park Medvednica and in Zoological garden of Zagreb), Rijeka (Natural History Museum Rijeka), in Plitvice Lakes National Park, on the island of Lokrum near Dubrovnik… In the CBSS organization, visitors can attend some interesting lectures about bats, listen to bat echolocation, learn more about the bat diet, but also about speleology, and there are also different workshops and games prepared for children. This interesting event attracts more and more visitors each year, and is slowly becoming one of the most important nature protection events in Croatia.
NGOs' Open Days
The NGOs' Open Days manifestation is an annual event organized by the Office for Cooperation with NGOs of the Government of Croatia. It is held throughout Croatia with the aim to inform the public about the work of NGOs in the local and general community. It is a chance for citizens to get to know NGOs' socially beneficial projects and programs, and learn about opportunities of volunteering in NGOs.
On this occasion, Croatian Biospeleological Society  opens its doors every year and invites everyone who is interested to visit its premises at Lomnička 3, where you can get information about our work, observe cave animals under a microscope and magnifier, watch a short movie about the subterranean fauna behavior, browse through various publications and promotional materials of CBSS, or just come to socialize with our members.